Longtime readers might remember the previous post about the half bath here. I'll give you this final glimpse of the "before", since I'm happy to report that we are finally getting around to dealing with it.
So there's the difficult as hell to photograph, 23 square feet of 70's deluxe bath action we've had going on. For its day, I think it was probably quite snazzy, and as I mentioned before, the tile is pretty groovalicious, but it can't stay, since we will be removing the cabinet. (run on sentence much?)
I will be saving the brass pulls from the cabinet, don't worry. The rest must go.
My Pinterest page for the bathrooms has been a great way to show the CC where my head is with materials and finishes. He wanted to pour another concrete counter like we did before, but my heart was in slabland.
Both images from Pinterest without source linked. If you know, please share, so I can credit properly.
I found a guy on Craigslist selling wood slabs, and while we went looking for Walnut, they were not wide enough, so we came back with a piece of White Oak.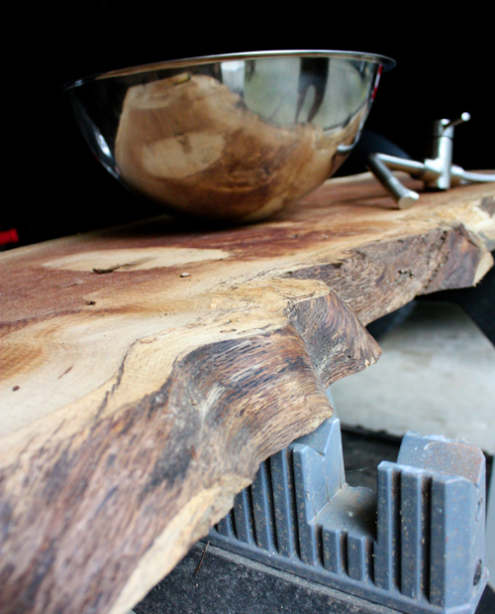 The plan is to under mount the stainless steel sink. We are trying to keep costs really low, so we opted for the IKEA Grundtal faucet instead of our fantasy Arne Jacobsen Vola in yellow.
We are sanding the slab, as it is still rough from the milling blades. Once we get it to the right smoothness, we will oil it well to finish.
Another reason we need to redo the floor is because we had planned to put in a wall mounted toilet. No more, since an exploratory session under the house showed we'd have to reroute the intake of our central heat and air, and that's not happening.
We did find a high impact, lower cost option for the new floor…Quartzite. It's hard to photograph, but it has an iridescence to it with greenish and grey tones. This was the sample board taken in the tile store.
This below is a little better representation of the color.
Hopefully the sheen of the stone will work with the stainless steel components, and the wood will warm it all up, funkylike.
I need a great (and inexpensive) pendant fixture, and I'm still deciding on how to paint the walls. I also need to decide whether the "wall of mirror" should return. Since it's such a tiny space, it might be nice to bring it back all the way down to the wood to double as a back splash, but I have to think on it.
Onward. No looking back now. Adios yellow laminate!
Wish us luck!