I took a little trip last week to sunny Southern California. The plan was to meet up with my college girlfriends for the weekend, but I decided it was a long way to go for just 3 days….so I flew out a bit early so I could visit the vintage modern mecca of Palm Springs. Oh yes, I did.
Being that this was my first time to PS, I had to pretend to be a hipster and stay at the Ace. I also knew I'd be cold on those desert nights and wanted that fireplace.
When I first arrived, I downloaded the architecture tour map, I thought that would be so much easier than constantly pulling over with my paper map. I had to leave it to download overnight onto my laptop it was so slow. Then, once it was on my phone…
…. that's how it stayed for the 3 days I was in Palm Springs. I had read some reviews saying this would happen, but with Modernism Week around the corner, I assumed someone was ON IT, right?!
So, I got to be a Peeping Patty the old fashioned way, with my trusty paper map from the visitors center. First stop, Kaufmann House…duh.
I notice this sign, and a version of it at all the popular architectural gems in town. Just in case I didn't feel like a big enough creep outside their house with my camera, now, I am worried about the "armed response." That's always the problem with admiring residential architecture. Even though I am in my car, I still feel like a jerk snapping photos of someone's house.
I hit up some shops with the fabulous, and funny Summer of Modernhaus!  We had a blast scouring  the thrift and vintage stores, and leisurely lunching like ladies.  I was thrilled to have a fellow vintage vulture with me to shop the town! We saw some things, and ate and drank some things too. Thanks again, Summer for making the drive to come and play with me!
The place I had hoped to visit the most while there, Modernway, was closed..AGH! So I took these photos like a weirdo with my phone pressed up against the shop window…AGAIN with the boundary issues…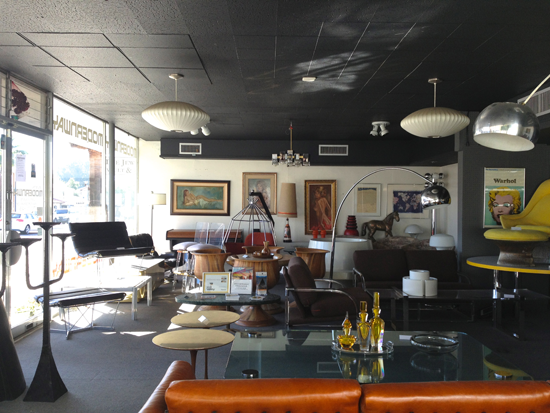 So, that was worth the lack of shame, right?  I mean, DID YOU SEE THE STUFF?! Yeah, me too.
I found the dealers at the shops fun to chat with, and I even learned something from a couple of them….like I can reupholster my Hannah Morrison chair in regular fabric instead of the fiberglass reinforced stuff from Knoll.  GOOD TO KNOW!
Would any trip be complete without ogling birds and fawns?
So, I passed up quite the sweet art investment. The iconic Slim Aarons Poolside Gossip shot at the Kaufmann House, blown up to a redonk size. Licensing these prints from the Getty is super expensive, but I have not enough dough or wall space to invest…. but boy, did I want it.
I felt no trip to PS would be complete without a stop at Trina Turk, which did not disappoint.
At the Angel View thrift store.
I managed to find ONE memento that would fit in my suitcase to take home….. Meep Meep!
Back on my own, I got my nature geek on and drove up to Joshua Tree National Park to get a spectacular view of the Coachella Valley and the Salton Sea.
I had budgeted enough time in my day to go to the Integratron for a sound bath, but couldn't get in, BOO!!! So, I decided that since I enjoyed the view so much, I was going to see it from the other side, so across the valley and up the tramway to Mt. San Jacinto I went.
Let me say one thing about the Palm Springs Tramway. The format does not lend itself well to its clientele. A bunch of snowbirds are not typically going to possess best sense of balance. Cram them all into a tram with me, add a rotating floor, and I've not been fallen on and banged on the head that much since an 80's mosh pit. NOT FUN, for them, or me. But the view from the top made it worth it.
And there you have the Salton Sea in the distance from the other side of the valley.
My last night included a street festival where I got to hang with the Lord of the Cello and Stuart the Pig, as you do.
When I joined up with my girlfriends on the coast, things like this happened, but the rest you'll never know. Our stomachs ached from laughing that hard. Despite a few days together, I still don't feel like I got totally caught up with all of the other 8 girls. How crazy is that?!
Adios California. Let's do this again sometime.