I didn't blog much over the Holidays since I've become such a fan of Instagram.  It doesn't mean I won't ever be back here, but it has definitely changed the way I share.  Being able to snap on the go minus all the time required for a blog post=more time for family and friends=good thing.  I'm switching the link on the side to Followgram over Instagrid since I think it's more comprehensive.  Anyway, here's what we've been up to.
There were Ninjabread Men…..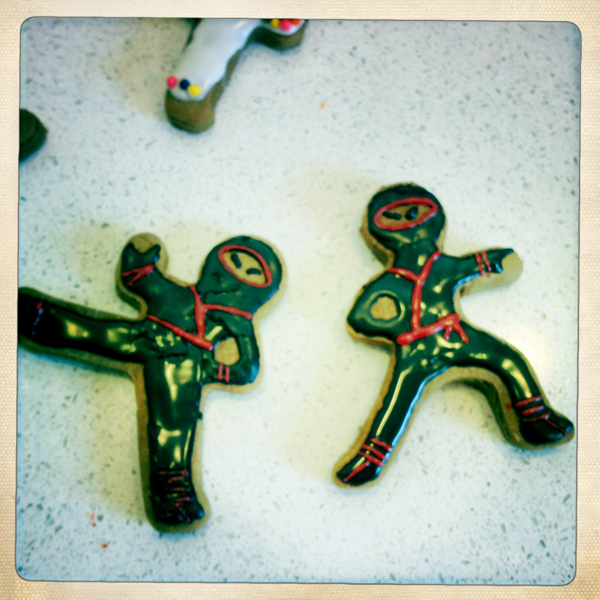 and Star Wars Pancakes….. (Thanks LBJ and JJ!)
We made our very first Gingerbread house!  It's never been my thing, but after seeing an A-Frame at Trader Joes, I couldn't resist.  We had a blast making it.  Next year we might try again, baking all the pieces ourselves…The CC thinks we should make a mini treehouse!
and there was daily Elfing…..
A road trip…..
…and back home in time for Christmas.
The first signs of doubt…heartbreaking.  Hoping this wasn't our last year for the magic…but if it was, I like to think we made the most of it.
Of course, there were gratuitous puppy shots…..
On New Year's Eve, we hosted a slumber party with an art project…the ubiquitous crayon melting project.
This was mine……
and here's the gallery of the kids' creations….
I showed them photos from here and here in order to give them more ideas with different styles.  I loved how everyone made something unique, and they had such a good time.  There was (outside) doubt about whether boys would get into such a project, and when they were done and so proud of their creations, I felt quite pleased that maybe all my ideas aren't so bad after all!
For what it's worth, here's my take on this project.  I found that the embossing heat gun (white one above) was the best tool.  The hair dryer puts out too much air, so we tended to use that to create splatter patterns and not so much for melting.  A tea light flame isn't quite strong enough and gets extinguished easily, so we subbed out a taper candle.
Time to start packing up the decorations and get organized.  We haven't printed out the annual list yet, so lots to do to ring in 2012…Happy New Year!
UPDATE: Hung the yellow piece in the bedroom. Things are still deciding where to hang theirs.