Yup…we went to the Motherland to visit family and friends.  We also decided to tackle some of the tourist spots at breakneck speed.  We chose quantity over quality, since the Things don't have the attention span for a 2 hour audio tour at this age…so we raced from one site to another.  Remember the Griswalds at the edge of the Grand Canyon?   That was us, stumbling into Stonehenge 10 minutes before closing. I'm not kidding.
After spending the first weekend with family at their home in the countryside, we struck out for Warwick on a day trip.
The castle there is spectacular…one of the best preserved in the country.  We love this place, and they cater to school groups and kids very well. Castle's site is here.
After climbing lots and lots of these……
….we got to see this.  It made all the moaning from the Things worth it.
Yes…that is SUN you see.  REALLY.  Spring was busting out all over…NOT what we're used to on visits this time of year.
Inside there was lots of wax action….
…and weaponry.
After we finished touring the castle interior…we came out just in time to catch the falconry show…how lucky!  I was quite excited, and the Things seemed pretty pumped too.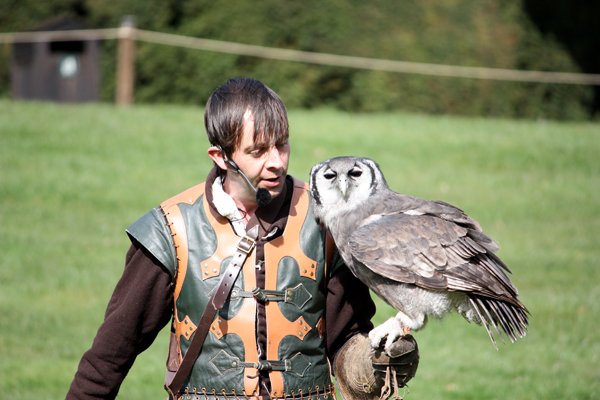 Meet the six month old baby owl named Ernie…cute eh?  Especially when he was being hand fed mice…yum.  I'll spare you that shot.
Then, the fab Eagle.
Love it.  Anyway..it was time to scoot…we were due back at the homestead in time for "tea."
Time for me to scoot too…all that laundry isn't folding itself and there is no food in this house.
More adventures later….