I don't think I've ever showed you "the nook".  It has been host to every chair in and out of the house…this round, we've moved out the egg and brought in the barcelonas from the bedroom.  They are working out nicely there for now.
It's quite a popular spot for being so tiny.  We use it as an indoor front porch, where we can watch the neighborhood action, read a book, or simply enjoy the stars…no repellent needed.
It was a decorative area for the previous owner since the office was in the playroom….
Now, it's just our serene chill zone in the treetops….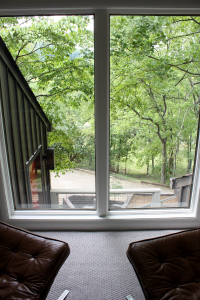 With the promise of fall coming…I expect to be spending more time here…with a big furry blanket….Mmmmm.