I have been picking up BFK/Hardoy, aka butterfly chairs for years, and they are showing some wear, plus the last pair I acquired were peeling and rough. While I would still like to get them sandblasted and powder coated, that will cost hundreds of dollars, and I wanted a down and dirty rehab before our last movie night that wouldn't cost much more than time.
Sanding with 100, then 200 grit sandpaper and spray painting them a flat black did the trick, but my biggest concern was the feet. I finally re-stained our decking, and I didn't want the metal chairs to leave rust stains on the fresh new finish as they had previously.
This is what I had all over the deck before I gave it a top coat….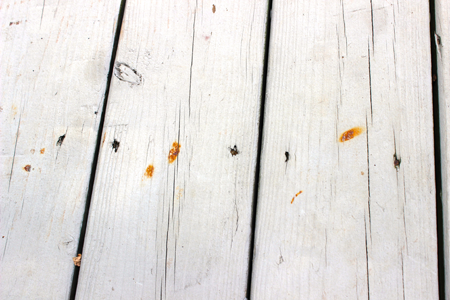 Annoying, right? The CC thinks I have unrealistic expectations of the deck, when I point out these things, he laughs and says – "It's a deck, not the hardwood floors!"
No, it's not, but it doesn't mean I want our barely 4 year old deck to look trashy already..K?
So I did my thing. I had to pressure wash it a second time since our summer was so wet, all the gunk I had washed off this Spring was back, and it took quite a bit of the stain with it.
For those wondering why we stained the deck rather than let it age naturally – we salvaged wood from our previous deck when this one was built, so we had sections of different age etc.. The boards would never look uniform as a whole area, so we stained it for both a cohesive aesthetic, and a way to reflect sunlight in the hot Tennessee summers.
Back to the chairs!
So, my dilemma was that I needed some kind of foot, or moisture barrier for these chairs. I have seen feet where you have to drill into the base of the chair – um, NO, and I don't actually want to SEE any feet, because I'm picky like that.
So we thought we were pretty darn clever, and decided the best solution was to put black silicone on the bottom of the chairs.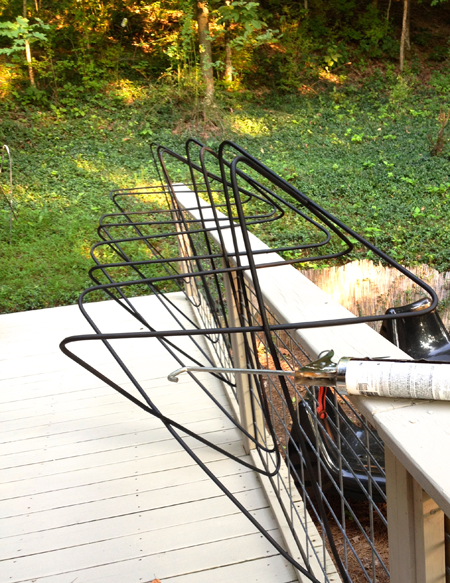 Awesome!!! After sitting in them for a day, we peeked underneath and this is how it had settled in! Problem solved. Now we can start working on something else, like FINISHING THE PANTRY.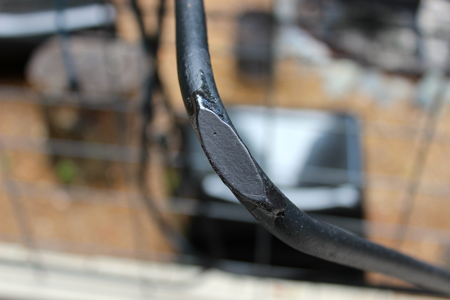 WRONG. After a few more days and a little dragging around, this is what the feet looked like….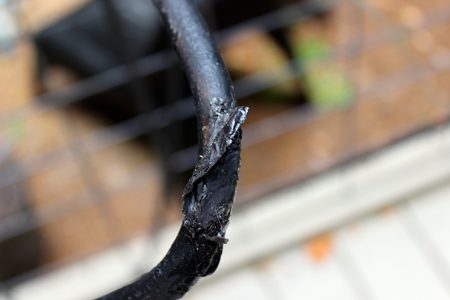 Back to the start. Then I had another bright idea -Â  for real, this one might work, maybe.
So we scraped the remaining shreds of silicone off and had a dipping party – twice. Two coats for good luck.
I'm in love. How has it taken me this long to discover the joy that is Plasti-Dip? I want to dip ALL THE THINGS. They have a spray version and I am seriously considering using it on…something, anything, I don't know, but I'll find something.
Anyway, it is doing just the job I wanted. It is sturdy enough to handle some light dragging and both deck and chair stay protected. The BEST part is that you really have to look hard to see it, and for resale value etc.. Plasti-dip is completely removable. YES, you read that right. How is it holding up? Why, let me show you….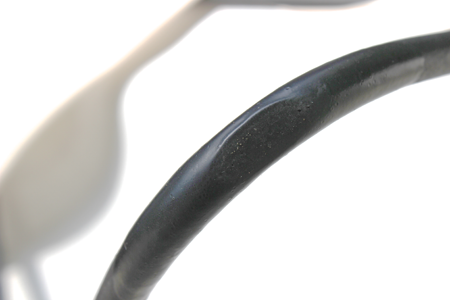 Yup. Aaaaand is it noticeable when you look at the chairs?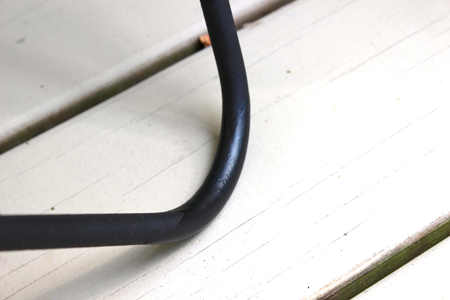 You tell me? I'm giddy, GIDDY I tell you.
This will come in handy for all hairpin legged furniture. Protecting hardwood floors, anything – you get the idea.
I should also mention that I ordered new covers from D & J Patio – white "space weave" designed for outdoors. About $20 less than the ones at Circa 50 BUT, they only come in one size. They fit the largest frames the best and we might take in the seam a smidge on our lower set frame covers. I just couldn't face spending $60+ shipping per chair when I needed 6 new covers.
Another tidbit to know is that they are SLOOOOOOOOW to ship, so establish their stock availability before you order for a particular event. (ours came a full MONTH after ordering). With all that in mind, I am pleased with the quality of the covers and think they are going to work out just fine.