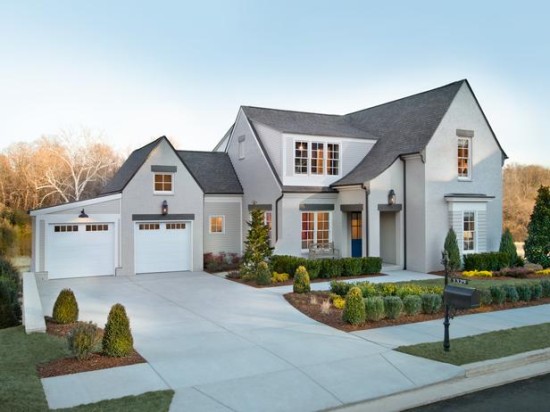 Credit: Eric Perry © 2014, Scripps Networks, LLC. All Rights Reserved
I was giddy to be invited to tour the new HGTV Smart Home here in Nashville and it was a great day out! Looking through my photos, I wish I had been able to get more snaps, but there was always someone else in the room, and as much as we tried to get out of each other's shots, I found myself focusing on details I was drawn to, rather than trying to get the whole room shot….BUT… HGTV took care of that on their site! To see the whole gallery of photos go HERE.
What makes it a Smart Home?  "HGTV's Smart Home boasts the latest in home technology coupled with eco-friendly features and energy-efficient design. Located in the Duncanwood Reserve neighborhood, this English cottage-style residence consists of three bedrooms and four and a half baths and features technology to connect the home's appliances and devices, giving the homeowner better control over energy use, security, interior climate and lighting." More details on the technology can be found HERE.

It also has a huge TV in the dining room, which I found odd, but I guess that's what all the cool kids are doing!?
The home is designed by P. Shea Design, built by Carbine and Associates and the interior design is by Linda Woodrum of TS Hudson Interiors. The HGTV House Planner for both Smart Homes and Dream Homes is Jack Thomasson.
I think all of us took this EXACT same shot…what a cute laundry/dog area! Otto would dig this.
I like the drama the black tile gives to the upstairs bath.
My favorite room was the upstairs den.  Throughout the house, there are touches of Sherwin Williams Indigo Batik, but this room went all in, and I LOVED it.
The color is washed out in my photo below, but it was much more like above, rich and bright.
One of my favorite pieces of furniture was this shagreen chest being used as a bedside table.
My favorite piece of art was James Richardson's "Twin Giants" from York Art.
I love getting to tour houses of ANY kind, from estate sales to open houses, so this was a much needed treat! Thanks for having me!
BTW, in case you didn't know, you can enter to WIN this home beginning April 15! Details are HERE.